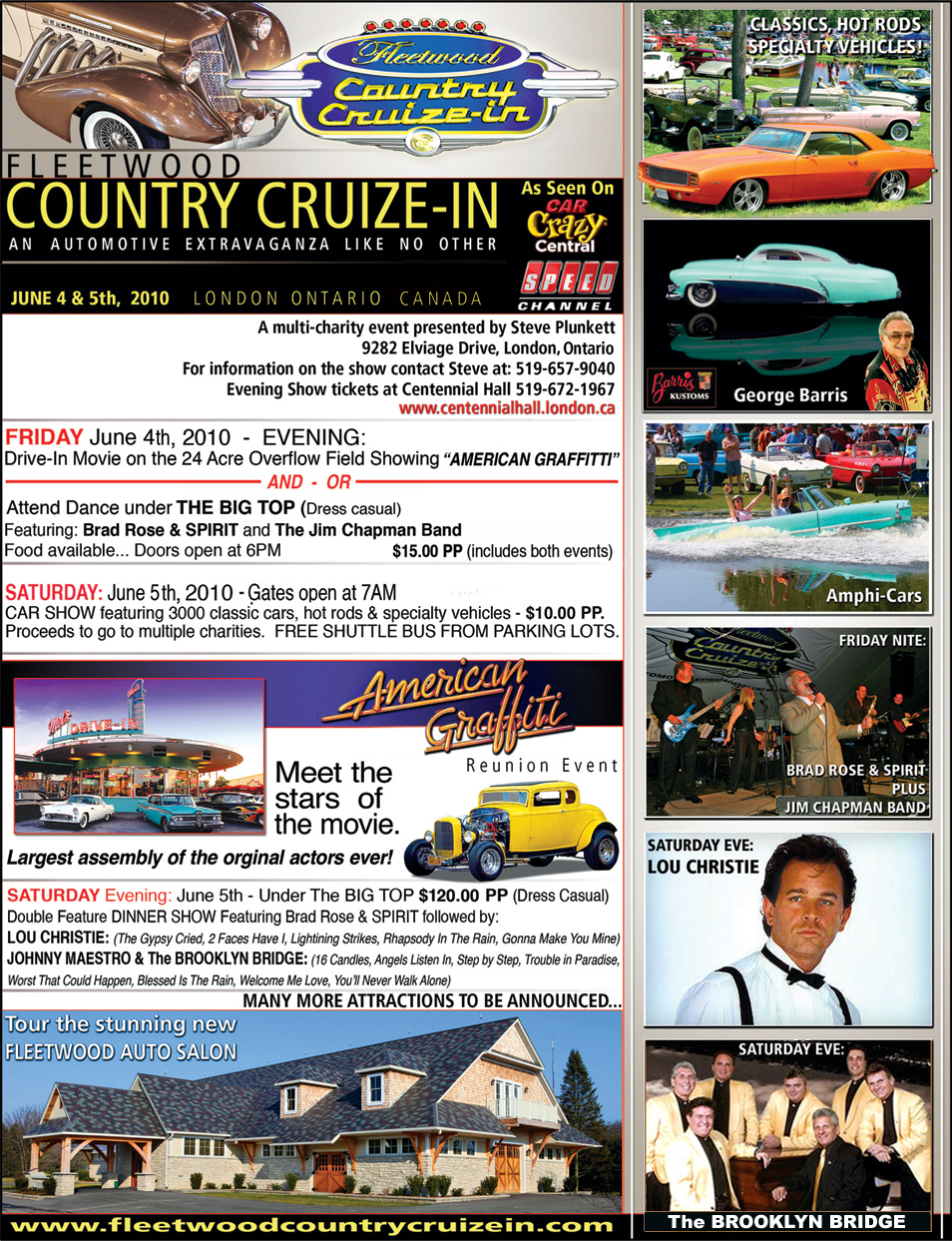 FEATURING STUDEBAKERS AND MOPARS

All Mopar vintage classics or rods are welcome. For info and registration of your Studebaker or Mopar, contact John Bol at sales@ucansales.com or Mark Smith at mdsmith2000s@yahoo.com.




GENERAL INFORMATION

"KICK OFF PARTY"


CAR SHOW


presents

Lou Christie
followed by
Johnny Maestro & Brooklyn Bridge



FEATURES:

Brad Rose & Spirit


followed by

Jim Chapman Band


and/or

Drive-in Movie featuring American Graffitti


Meet our guest George Barris


Come and see
Amphicars on the pond!

See the New Cadillac's of the 30's Museum and the 31-car garage.


Meet Candy Clark, Bo Hopkins, and a number of actors from
American Grafitti



Lou Christie

[The Gypsie Cried, 2 Faces Have I, Lightning Strikes, Rhapsody In the Rain, Gonna Make You Mine]

Brooklyn Bridge

[16 Candles, Angels Listen In, Step by Step, Trouble In Paradise, Worst That Could Happen, Blessed Is The Rain, Welcome Me Love, You'll Never Walk Alone]

DATE:
Friday, June 4, 2010

Saturday, June 5, 2010
Saturday, June 5, 2010

TIME:
Tent opens at 6:00 p.m.
Show at 8:00 p.m.
8:00 a.m. - 4:30 p.m.
Tent opens at 6:00 p.m.
Dinner at 7:00 p.m.
SINGLE EVENT ADMISSION:
$15 per person
$10 per person
$120 per person
A PORTION OF EACH TICKET SALE GOES TO CHARITY
OTHER:
Food Available
Non alcohol event
Full Dinner
Dress Casual
Dress Casual
Cash wine / beer bar
No judging or registration
Cash wine / beer bar
UNDER THE BIGTOP
RAIN OR SHINE
UNDER THE BIGTOP

EVENING TICKET SALES: www.centennialhall.london.ca
(519) 672-1967



There are estimated to be 2,500+ vintage cars, rods and customs and specialty vehicles on display.

There will be interesting exhibits from some of the most outstanding suppliers to the classic car industry.

DIRECTIONS (click here for map )

Directions from PORT HURON / SARNIA

Hwy 402 East to komoka Mt Brydges Exit 82
Turn right at Glendon Drive
Go through Komoka, over bridge and Thames River
Turn right (south) on Woodhull Road
Go on to stop sign
Continue south to next stop sign and turn left on Elviage Drive

Directions from DETROIT / WINDSOR

Hwy 401 East to Exit 157 (Iona / Melbourne)
Turn left (north) and proceed to Melbourne
At Melbourne, turn right (east)
Proceed through Delaware
Go about a mile
Turn left (north) on Brigham Road
Proceed north and turn right on Elviage Drive
Go east for one mile

Directions from TORONTO / KITCHENER

Hwy 401 West past Wellington Road London
Take Hwy 402 to Sarnia
Continue pass Wonderland Road and take Exit 98 Colonel Talbot Road
Veer right and go into Lambeth to traffic light
Turn left (west) onto Longwoods Road at lights
Proceed 2-3 miles
Turn right (north) on Westdelbourne
Go north 1 mile and turn left on Elviage Drive

SPONSORS

Fleetwoood Country Cruize-in is indebted to our sponsors for their generous contributions




Meguiars Canada, Ray Cullen, Bluewave Energy, O'Tool's Rent or Buy, Mufflerman, Labatt, Lerners, Volvo Jag of London, BMW mini of London,
Hyde Park Equipment, London Mitsubishi, Can Am RV, OLG, Lant & Co. Insurance Brokers, Voyageur Transportation Services, Bob Williams Tire, Tim Horton's, Hallmark Guitars, Oakridge Ford, London City Chrysler Jeep Dodge, Copp's Buildall, David Insell Trucking.


AUTOMOBILE QUALIFICATIONS
1985 and older models (unless approved by Steve Plunkett). Contact Steve if you have any questions or would like to request approval.

CHARITABLE BENEFACTORS
JESSE'S JOURNEY. For further information please visit www.jessesjourney.com
ST. Thomas Lions, Ontario Rett Syndrome Association, Komoka Optimists, Oakridge Optimists, VON Canada (Elgin Middlesex), Jesse's Journey, Ski Boler, Crohn's and Colitis Foundation, Sunshine Foundation, Strathroy Middlesex Hospital, Grand Theatre, London Regional Cancer Centre, Sari, Lucan Lions, ALS Society, First Komoka Scouts, Knights of Columbus Delhi, Optimist Club of New Hamberg, Peace Keeper Camp.

HOST HOTEL
Stoneridge Inn
6675 Burtwistle Lane
(519) 652-6022
www.bestwestern.com


Radisson Hotel
855 Wellington Road South
London, Ontario
(519) 668-7900
Reserve at:
www.radisson.com/offers/2750663/rad
(State Fleetwood Country Cruizein for preferred rates)

MEDIA COVERAGE

Fleetwood Country CruizeIn wishes to extend a warm welcome to the London Free Press, Rogers TV, Old Autos TV, Old Autos Newspaper, Village News, Muscle Car News, Toronto Star, The National Post, Car Crazy and the Speed Channel, Canadian Classics and Performance Magazine, World of Wheels, Automotive Lifestyle TV - Michigan, Mississauga News, Dream Car Garage (Speed), B.B.C. Europe, Blackpress - 90 Papers, Metroline - 118 Papers, our local radio stations and many more.